Renew your support for Farm Sanctuary today and be a hero for farm animals!
Renew now.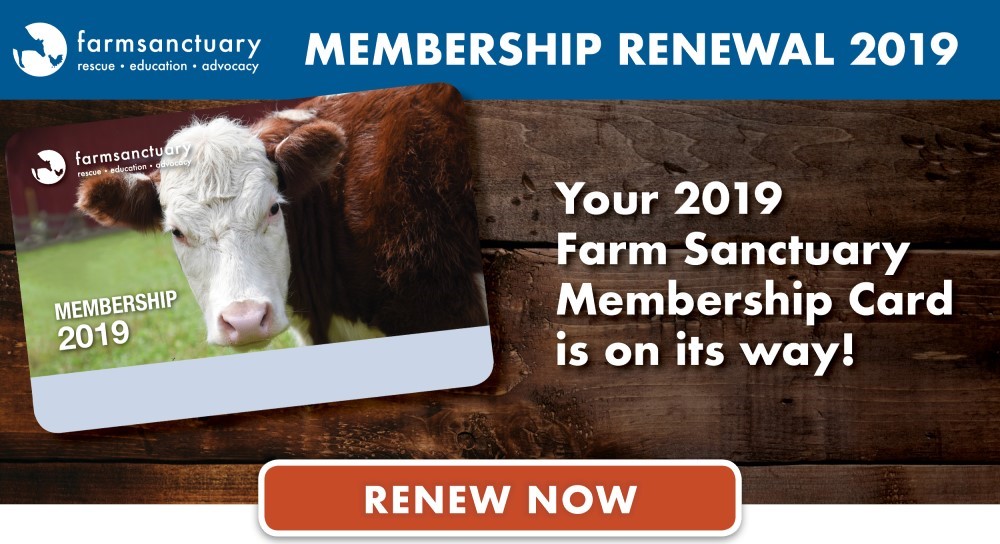 Dear friend,

As a dedicated Farm Sanctuary member, your love and caring support have helped us rescue, shelter, and care for thousands of farm animals, and defend countless more from abuse and neglect. We sincerely thank you!

Truly, farm animals have no better friend in this world than you, friend.

That's why I recently mailed you your 2019 Farm Sanctuary Membership Card. Please accept it with our gratitude for the difference you are making in the lives of our more than 1,000 shelter residents and billions of farm animals across the country.

But I hope you won't wait for your membership card to arrive to renew your support for 2019.

Friend, please renew your Farm Sanctuary membership today. YOU provide the continued friendship and support that we count on to bring transformational change to the food industry, while providing our amazing animal residents with all the love and care they need and deserve.
Animals like Bonnie, the happy, smiling cow featured on your 2019 Membership Card.

Bonnie wasn't always so carefree. In fact, she had been destined for slaughter ... until she escaped from her farm in Holland, NY, into the nearby woods, where she lived for nearly a year with the help of a local herd of deer who accepted her as one of their own.

It was an inspiring story. But, as a domesticated animal, Bonnie would not survive in the wild for very long — especially in those woods, which can accumulate many feet of snow in the winter.

Fortunately, a concerned neighbor saw that this plucky calf was running out of time, and asked Farm Sanctuary to bring Bonnie home. Bonnie was afraid of people and ran away the first two times we tried to rescue her. But on our third attempt, we safely got her into our trailer. And, after nearly a year on the run, she was finally "out of the woods."

Today, Bonnie is loving life at our New York Shelter. She has already made a new best friend — Alexander Beans. These two amazing animals are inseparable and thriving in our special-needs herd.

As a kind-hearted and compassionate Farm Sanctuary member, you are an important part of Bonnie's remarkable story, and your renewed support today will help us sustain her lifelong, individualized care.

Your membership also makes possible Farm Sanctuary's legal and policy efforts to bring much-needed reforms to America's farming industry ... our Farm Animal Adoption Network, the country's largest farm animal rescue and adoption system ... and our Meet Your Neighbors initiative in North Carolina, which is helping North Carolinians see the environmental-justice impacts of factory farming and get to know farm animals as individuals.

Please be a hero for farm animals by renewing your support today. Thank you for helping Farm Sanctuary build a more humane world for farm animals everywhere!
Yours in compassion,

Gene Baur
President and Co-founder
P.S. Please renew your annual support today and carry your 2019 Farm Sanctuary Membership Card with pride. Thank you once again for everything you do to help Farm Sanctuary be the rescuer, caregiver, and advocate that abused and abandoned farm animals like Bonnie desperately need.

SHARE THIS EMAIL
Farm Sanctuary | PO Box 150, Watkins Glen, NY 14891 | 607-583-2225
Farm Sanctuary's financial report and state registration information.
If you have trouble viewing this alert, please use this link: Message Viewer